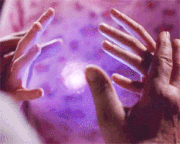 Light
is the most powerful form of magic. It is more powerful than expression and is also the polar opposite to expression. Unlike other forms of magic this magic can't be learn or obtain from human sacrifice. One can only obtain this power from the Original Witch
Gaia
. Light usually takes the form of purple, white, pink, or blue light.
How this form of magic came to be is unknown but the first person to obtain this power is Gaia. Thousands of years ago Gaia used this form of magic to seal the wraiths away in the In-Between. Years later the Original Coven used this power to defeat and seal the Primordial Starrk away in his tomb.
The basic abilities of Light is that can knock it's targets away with ease and with great distance. One can also charge Light into a small ball that will explode like a grenade when it hits the ground. The user will also have the ability to teleport and banish others to different dimensions. The user can also use this ability to channel natures power to see past events. Light can also undo spells performed by witches/warlocks. If the user overuses this power than they will quickly die.
Known Users
Edit
Since one can only obtain this ability from Gaia, there are only a few who has this ability.
Ad blocker interference detected!
Wikia is a free-to-use site that makes money from advertising. We have a modified experience for viewers using ad blockers

Wikia is not accessible if you've made further modifications. Remove the custom ad blocker rule(s) and the page will load as expected.