300px
Llith
Born
6300 B.C.
Status
Dead
Occupation
Seamtress
Alias
The Devil's Witch
Species
Witch
Gender
Female
Family members
The Bennet Family
Significant spells
Memory Steal (on Byron Jameson)

Immortality Spell (immunity to age and diseases, could be killed conventionally)

Significant kills
Brendan Johnson
Cause of death
6257 B.C.
Killed by
Byron Jameson
Played by
Milla Jovovich
First seen
Season 5 Premiere
Llith was a witch born in 6300 B.C. She was probably the most powerf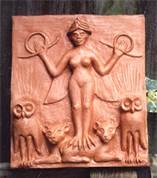 ul witch who has ever lived and has completed feats that no other witch has ever done. She created a spell for immortality and cast it on herself so that she could live forever, but the spell also allowed her to keep her magic .
Early Life
Edit
Personality and Traits
Edit
Physical Appearance
Edit
Powers and Abilities
Edit
Weaknesses
Edit
Ad blocker interference detected!
Wikia is a free-to-use site that makes money from advertising. We have a modified experience for viewers using ad blockers

Wikia is not accessible if you've made further modifications. Remove the custom ad blocker rule(s) and the page will load as expected.